Last Thursday at the Corn Exchange, the Banff Mountain Film Festival world tour traveled to Cambridge. Named after the Canadian town of Banff, the festival aims to show the world's best mountain-related films. Expect: rock climbing, extreme sports and documentaries about distant peoples and places.
This year, the screenings started with sport climbing. Sport climbing routes are short by rock climbing standards, less than 70 meters long. That said, they can be extremely difficult. The most difficult of them require otherworldly strength and determination. In the first film of the evening, we could see all these attributes in the rise of Mélissa Le Nevé Direct actiononce the toughest route in the world and still one of the most iconic.
Until last year, it had never been climbed by a woman. The hardest and first move in the road is a wild jump from a one-finger pocket into a two-finger pocket. Do yourself a favor and watch it, it seems impossible. The film is beautifully shot and intercuts attempt after attempt at snippets of Le Nevé's life as she worked her way up. She first attempted it in 2013, but her only successful attempt was at the end of 2020. Le Nevé's single-minded focus is alleviated by her humor and personality. In the end, you desperately want her to succeed – in a trial in 2017 she fell 3 shots off the top and the audience gasped. The film is strongest when you can see Le Nevé working his magic. It is a brilliant and fascinating climb. The film's only real crime is to alert us to its imminent success with a few Spanish guitars that diffuse the tension a little. But in the final movements, we hear her cries through the forest. "What the fuck!" she cries with pure joy.
Next was follow the light, a stunning, albeit somewhat rambling, 4-minute short film with no narration, shot in Cappadocia, Turkey. A series of drone shots follow Kilian Bron as he mountain bikes over smooth bumps of tuff, soft rock made of centuries-old ash, with ancient cities and hot air balloons in the background – all hallmarks of the region. The climax of the short is a sequence in which Kilian follows a flare through a winding path in the dead of night. Unfortunately, the choppy editing makes it difficult to follow through what should have been a ride that kept us on the edge of our seats. But the constant breaks in cinematic coherence – rapid shifts from night to day, left to right then right to left – brought the cinema closer to the realm of publicity that the athlete or venue did not deserve.
"Lentsch is a skier, not a documentary filmmaker or a journalist, and it shows"
The third and longest film, native foreigner, was unfortunately the worst. This followed Fabian Lentsch's attempt to experience Iran's vast, wild mountain ranges not as a tourist but as a local. To this end, Fabian moved to Tehran for a full year. But the project was halted by COVID and much of the crew had to leave Iran, one of the hardest hit countries at the start of the pandemic. Fabian stayed, but the product of his stay was an extended travel vlog peppered with mostly uninteresting and unresearched cultural facts. Lentsch is a skier, not a documentary filmmaker or a journalist, and it shows. What could have been a fascinating look at Iran's subculture of daredevil athletes and sports history was actually a sloppy documentary told with little cinematic verve or cultural expertise. At the end, instead of the classic Tanbur music that should have been the soundtrack, we are treated to a slideshow covered in generic pop. "I need a ride. I think I survived," the lyrics rang out, as we watched images and video of a thrilling intimate adventure that we the audience never have. been allowed to live." "Why Iran?" "Why not?" he replies.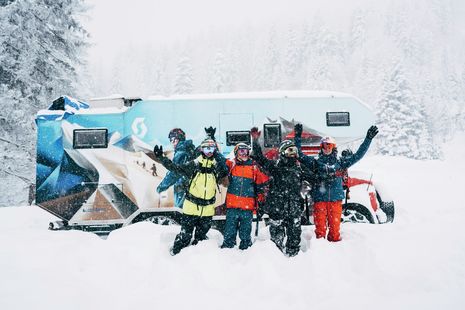 Then came a film of Rab Wardell's record-breaking cycle ride through the West Highland Way, a 151km trail from Milngavie north of Glasgow to Fort William in the Scottish Highlands. Wardell's direction is impressive and the story is told with lightness and charm. It's definitely worth watching if you need inspiration to, in Wardell's words, "do something stupid."
The next movie, From my window, won Banff's Best Short Film award and follows Melissa Simpson's ascent of a 13,000-foot peak entirely in her wheelchair. Simpson was born with cerebral palsy. From her window in Colorado, she could see some of the tallest peaks in the state, but she was discouraged by her disability. With the help of Erik Weihenmayer, a blind explorer, and a team of veterans and people with disabilities, Melissa attempts the ascent. It's a moving film that made my companion cry. And rather than a story advocating independence and personal achievement, the focus is on solidarity and the need that we all have, whatever our disability, for community.
"It's a moving film… And rather than a story advocating independence and personal achievement, the emphasis is on solidarity"
After the emotional highs of From my window came The ultimate race, a fictional short film imagining the dream ski slope of high mountain skier Marcus Eder. The film begins high on a glacier, and we follow Marcus' path as he weaves through seracs and soars over cliffs in an ice cave and on the groomed slopes of a ski resort. It's superbly shot. A pastiche of clichés, The ultimate race is a ski-bro fantasy without the dated 80s antics of Fabio Wibmer.
Overall Banff was a delight. Keep your eyes peeled for his next visit to Cambridge on May 28.