By Josie Gulliksen, Miami Times Contributor, The Miami Times
Find out what's happening in Miami
with free real-time Patch updates.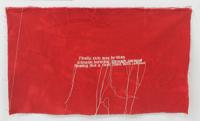 "Finally Skin was 2 years old" by Michelle Lisa Polissaint
Find out what's happening in Miami
with free real-time Patch updates.
(Courtesy of Michelle Lisa Polissaint)
Every April for the past 11 years, chances are that somewhere around Miami you've come across a poem in an unusual place – on a receipt at the gas pump, on a product sticker, or even on a vintage gumball machine.
This was the O, Miami Poetry Festival in action, with Founder and Executive Artistic Director P. Scott Cunningham and the O, Miami team working to fulfill the mission of bringing poetry to life for everyone in Miami County- Dade throughout the month of April.
And why in April? Because it's National Poetry Month.
"It's the 11th festival, and there are so many people who cared about it and helped it grow," Cunningham said. "I've been very lucky to meet people who feel as passionate about the mission as we do. It takes so many people to produce this event for just one year, let alone 11 years."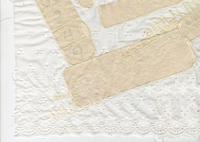 "Little White Rectangles" by Michelle Lisa Polissaint, an example of work she will produce at this year's O, Miami Poetry Festival.
(Courtesy of Michelle Lisa Polissaint)
The festival encompasses site-specific events, community gatherings, and yes, those poetry projects in public places, all making for a very hyperlocal event that focuses entirely on the experience of living in Miami.
Over the past decade, O, Miami's full-time staff has tripled to keep up with the growing number of collaborations, informed by the foundation's work as well as its education program "that began with us in schools. in 2016 and became its own entity two years ago," Cunningham said.
The educational program is by far the fastest growing component of the festival, so much so that O, Miami has added a second full-time staff member to support it. The organization is at capacity, indicating that there is a need for what it offers.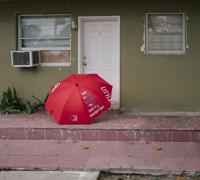 Michelle Lisa Polissaint and Najja Moon's 2019 umbrella initiative is inspired by a short Creole proverb, roughly translated as "A leaky roof can cheat the sun but cannot cheat the rain".
(Gesi Schilling)
"We're providing a free program in schools, and teachers and administrators know there's a gap and realize there's a need," Cunningham said.
In February, O, Miami unveiled "Chain Letters" at Morningside K-8 Academy, a new project designed to amplify community voices and inspire children to embrace poetry by wrapping the school's chain-link fence with oversized poetry, written mostly by seventh graders. The exhibition will be visible throughout the month of April.
Equally important to the educational program is O, Miami's collaborations with local artists. Returning this year with a site-specific installation, Michelle Lisa Polissaint created an umbrella initiative several years ago that was showcased throughout the Miami Design District at that year's festival.
This year, she returns with an interactive project at Legion Park, where the public is encouraged to bring a piece of fabric or other material that has special meaning. Polissaint will be there sewing poems on what she has handed over. She plans to bring vintage towels and other items for those who come to enjoy the project without any materials.
"For this project, I wanted to draw from the archives of O, Miami, but do something simple, so I'll choose about 15 poems to stitch onto the fabric," she said. "Over time, it will become this living work of art."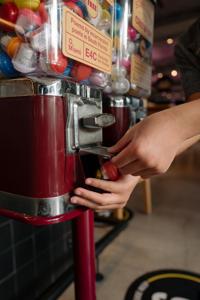 This vintage chewing gum machine was part of the Zip Odes initiative at O, Miami Poetry Festival.
(Gesi Schilling)
Poems will be chosen from past Zip Odes projects as well as poems by elementary school children created during O, Miami's Sunroom Project, "because I love the projects they do with young people and their commitment to young people. ", said Polissaint. "I wanted to be able to integrate the kindness and gentleness of children."
The stitched words will be in English, Spanish, French and Haitian Creole, created over several April weekends at the park.
The Zip Odes project is "always a public favorite where we invite the public to write poems about their zip codes," Cunningham said.
The five-line poems will again be featured online and with around 10 chosen each week, culminating in a reveal on April 27.
"Authors will be invited to read them online on the 27th. We started this initiative in 2015 and since then we have generally received an average of 1,500 to 3,000 submissions every year," he said.
Other highlights of this year include "Everybody's an Island: A Tour of the Hidden History of the Venetian Islands" by Jason Katz, author of the zine Islandia Journal.
"Jason has come up with this site-specific event where he will take a tour of the islands and showcase their history," Cunningham said.
Local artist Najja Moon is also bringing her "Portrait 34" project to this year's event, a project inspired by her cousin, who recently passed away at 34.
"Najja has suggested that people submit poems specific to their age. It will be in a photo booth where you put your age and it prints a photo with a poem on that number," Cunningham said. "The poems were written by people across the country who responded to our national call for entries."
Outside of the April event, O, Miami releases two books a year and a few zines, which the organization is still doing and developing as well.
"Everything we do this year is outdoors or in an intimate setting, and we even still have online events," said Cunningham, who added that ultimately the festival is "about bringing together again folks. That's my hope."
Visit OMiami.org for the full schedule of events in town and online.
---
The Miami Times is the largest black-owned newspaper in the South serving Miami's black community since 1923. The award-winning weekly is often recognized as the nation's best black newspaper by the National Newspaper Publishers Association.